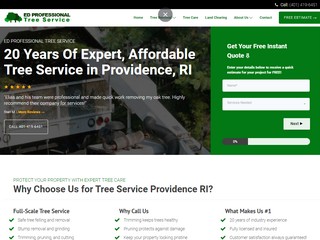 "ED Professional Tree Service provides professional and reliable tree services for residential and commercial customers. We are a family-owned business with over 20 years of experience in the Providence county tree service industry. Our services include tree removal, trimming, pruning, stump grinding, and lot clearing. We prioritize safety and quality while providing our clients with excellent customer service. 
Our team uses only the most advanced equipment, such as bucket trucks, crane trucks, and chippers to remove hazardous trees or limbs from your property safely. Our professional arborists have extensive knowledge in caring for all types of trees, including pines, maples, oaks, cypress, elm, and many more. From planting to pruning to tree removal! 
We offer competitive prices without sacrificing quality. Our Rhode Island team is available 24 hours a day for emergency situations, so you can rest assured that your needs will always be taken care of promptly and professionally. Whether you need help with a single tree or want assistance managing an entire woodlot—we've got you covered! Contact us today for more information!"
More Links
Business address
Ed Professional Tree Service
02907
Providence
,
RI
United States
Rhode Island US
Websites from Home